My previous experience with audio has been fairly limited. I listen to B101.5 in my car, and my eleventh grade English teacher played a few podcasts for us in class (after talking about how amazing they are, to which we all rolled our eyes), but other than that, I tend to have some sort of image to go along with everything I hear.
One of Abumrad's quotes that really stood out to me was,"I'm painting something, but I'm not holding the paintbrush; you are."
This changes radio from background noise to a "movie" in which I get to decide what the visuals are. I thought of this as similar to reading a novel. I have an image in my head of what all the characters look like, and I can't be proven "wrong" by a movie based on the book because there is no wrong image.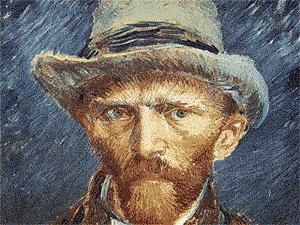 As for the radio dying, I think the traditional radio that sits in a family's living room and has an antennae has been dead (but please, let me know if you still have/use one!) However, I never thought that radio itself is dying. It is available every time I turn on my car, and things such as podcasts and iheart.com ensure that radio cannot die. This is because the internet is far from dead, and that's where radio is now. Just look at the online radio website for this class!
Both the RadioLab video (audio?) and the general resources/tips surprised me. I had always assumed that when there is a sound of paper being crumbled, like in the RadioLab, the hosts literally crumbled up a piece of paper. Of course, I knew that the laughter or whatever other more unique sounds that were played were a recording, but it seems to be a lot more difficult than a click of a button. I had no idea that audio had to be layered in anything other than movies. I understood everything that the videos and resources told me, but it clarified many misconceptions I had about radio, and audio in general.
I'd like to point out that I'm thankful for the free sound/music links! I'm sure I would have spent a long time trying to figure out what I could use if they had not been provided. I am interested to see how these concepts will apply to tonight's radio show! Although, the radio show starts when I typically go to bed, so we'll see how much attention to small detail I can really have at that point.