I greatly appreciated the lower quantity of assignments this semester, especially since I have so many essays, readings, and tests coming up in my other classes! I completed three Daily Creates, and this week they were much more spread out than they usually are. In fact, I feel like I have done so little work for the class this week, that I almost forgot that I had already completed two Daily Creates prior to today!
Frida's apocalyptic checklist from the novel "California" #tdc2263 pic.twitter.com/q1iJ8YLjiK

— Samara (@Sam_ara106) March 21, 2018
I finished reading California about a week ago, and I have had nobody to talk about the book with who has already read it. This Daily Create allowed me to have a brief (one-sided) conversation about Frida's typical day! I used Canva to create the to-do list, and I changed the colors around to find a combination I liked.
Meet the zerse! (This is an okapi) #tdc2264 pic.twitter.com/3y8T50j8Qr

— Samara (@Sam_ara106) March 22, 2018
My favorite animal has been an okapi ever since fourth grade, when I completed a short research project on them. I have a stuffed okapi on my couch at home, and I am always amazed when a zoo has an okapi or two (why doesn't the National Zoo???) I was excited to share my favorite animal, and I named it the Zerse, combining zebra and horse because of its zebra legs and horse-like body!
I took the word "quickly" in the directions very literally #tdc2267 pic.twitter.com/dPWl7AXcLo

— Samara (@Sam_ara106) March 25, 2018
Today's Daily Create immediately made me wish I had completed another one earlier in the week, because I am not a fan of drawing. Mostly because I don't understand how to do it. However, it presented the challenge of me having to do my best. A few of the other responses have looked amazing, but I only spent about five minutes from start to finish on this, and I at least attempted at some shadows! Looking back, it would have been easier for me to do a different Daily Create, but I am overall happy that I completed one that challenged (and slightly embarrassed) me.
Tuning into other radio shows was amazingly fun! You can see my post about my own show and the two I listened to live here. A few other groups posted SoundCloud links in their posts, so I have heard a majority of the radio shows. I was surprised how different every show was, especially since we were all given the same directions. This was nice because I never knew what to expect when I first began listening to each show. I thought it would be impossible for everyone to tie in emerging evidence, but all of the ones I listened to did! A majority of my comments have been on posts reflecting on the radio shows, and I'm happy to see the total amount of comments increasing!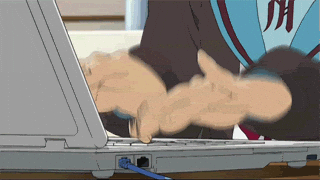 When I read that I would have to redo an assignment (which I suspected was coming up because I mentioned that I wanted to redo some assignments during the self-evaluation, and I received a comment back that we eventually would), I immediately thought to redo my juxtapose assignment. I had a feeling I did not do it right the first time, but I was not sure how else to approach it. Since I have now seen other people complete the assignment, I knew what to look for. My face is still not exactly lined up, which you can see here, but it is definitely an improvement, and I am much happier with the result!
During the apocalypse, I would need some form of entertainment, and this would likely be a deck of cards. They can be played alone or with someone else, so I would not necessarily need a group of people. I do not think I would survive long in the apocalypse because I have no survival skills, but at least I won't be bored out of my mind waiting for the zombies to leave! Plus, it would distract me from the entire world-ending situation.
P.S. If anyone knows how to center tweets that I linked to embed, please tell me! I can't seem to figure it out.